3ο Συνέδριο Game Changer: Women of Influence
Στέγη Γραμμάτων & Τεχνών Ιδρύματος Ωνάση, 2.30 μ.μ
24MEDIA - Συμεών Γ. Τσομώκος ΑΕ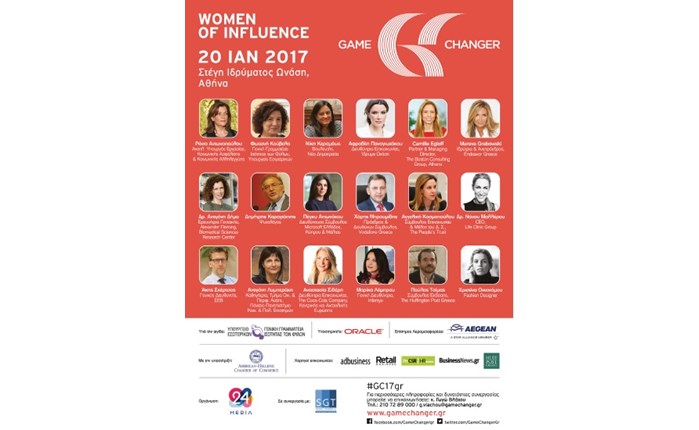 3ο Συνέδριο Game Changer ''Women of Influence''
Στέγη Γραμμάτων & Τεχνών Ιδρύματος Ωνάση, 2.30 μ.μ
Agenda
14:30 - 15:00 REGISTRATION
15:00 - 15:05 WELCOME REMARKS
15:05 - 15:15 WELCOME ADDRESS
15:15 - 15:25 OPENING REMARKS
15:25 - 16:00 FEMALE LEADERSHIP: BREAKING THE IMPASSE
16:00 - 16:30 MOVING AHEAD
16:30 - 17:00 THE BUSINESS CASE FOR GENDER DIVERSITY
17:00 - 17:30 NETWORKING COFFEE BREAK
17:30 - 18:00 MYTH BUSTER SESSION: SCIENCE, TECHNOLOGY AND WOMEN
18:00 - 18:30 NURTURING WOMEN'S ENTREPRENEURSHIP
18:30 - 19:00 THE BUSINESS AND LIFE CASE FOR AGILE WORKING
19:00 - END OF GAME CHANGER WOMEN OF INFLUENCE CONFERENCE
Game Changer: Women of Influence will identify and celebrate bold, energetic women who capture the spirit of progress, helping shape a vibrant, inclusive, economic and social future.
The Forum aims to enable a high-level, informed debate on how best to achieve gender diversity in policy making, economy and society.
The event will focus on women of influence who have put theory into practice to achieve continued success throughout their careers. Highlighting positive role models is hoped to empower women from all walks of life and at any entry point in the hierarchy ladder in order to overcome the obstacles and achieve their full potential.
Among the invited guests are top level public sector officials, managers and intellectuals, leaders in their area, that will present and debate on ways to advance women's equal opportunities and professional development.
Game Changer in Women of Influence is aiming to be the leading platform for top female decision-makers to exchange their ideas and approaches towards major challenges and opportunities in business and society.
SPEAKERS
o PEGGY ANTONAKOU
General Manager Microsoft Hellas, Cyprus & Malta
o HARIS BROUMIDIS
CEO Vodafone Greece
o DR. ANTIGONE DIMAS
Assistant Professor - Biomedical Sciences, Research Center Alexander Fleming
o CHRISTINA ECONOMOU
Designer
o CAMILLE EGLOFF-GHICAS
Partner & Managing Director, Athens, The Boston Consulting Group
o MONIKA EKSTROM
Head of Sector of Political Reporting and Policy Analysis, Representation of the European Commission in Greece
o MAREVA GRABOWSKI
Founder & Vice Chairman, Endeavor Greece
o DIMITRIS KARAGIANNIS
Psychologist
o NIKI KERAMEUS
Member of Parliament, NEW DEMOCRACY / Head of the Education, Research and Religious Affairs Sector of ND
o ANGELIKI KOSMOPOULOU
Member of the board, The People's Trust
o FOTINI KOUVELA
Secretary General for Gender Equality, Ministry of Interior
o MARICA LABROU
Managing Director, Intersys
o ANTIGONE LYBERAKI
Professor - Dep. of Economics & Regional Development, Panteion University
o DR. NANCY MALLEROU
CEO, Life Clinic Group
o AFRODITI PANAGIOTAKOU
Deputy General Manager, Onassis Cultural Centre
o ANASTASIA SIDERI
Communications Director Central and Eastern Europe, The Coca Cola Company
o AKIS SKERTSOS
Director General, SEV Hellenic Federation of Enterprises