Γιορτή Επιχειρηματικής Αριστείας 2016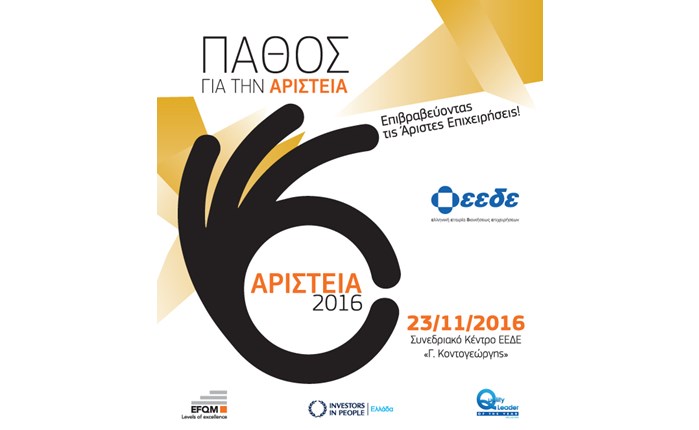 Η
Ελληνική Εταιρία Διοικήσεως Επιχειρήσεων (ΕΕΔΕ)
διοργανώνει σε ετήσια βάση τη Μεγάλη
Γιορτή της Επιχειρηματικής Αριστείας,
«ΑΡΙΣΤΕΙΑ έτος» για την απονομή των Πιστοποιήσεων EFQM Levels of Excellence, ΕΕΔΕ «ΑΙΕΝ ΑΡΙΣΤΕΥΕΙΝ», Investors in People καθώς και του Βραβείου του Έλληνα Quality Leader of the Year.
Κάθε χρόνο οι σημαντικότεροι θεσμοί που επιβραβεύουν την Αριστεία παρουσιάζονται όλοι μαζί από την ΕΕΔΕ τονίζοντας την ανάγκη για ανάπτυξη και επιβράβευση της επιχειρηματικότητας σε εποχή πολυδιάστατων προκλήσεων.
Αξίζει να σημειωθεί πως στην εκδήλωση συμμετέχουν κάθε χρόνο περισσότερα από 500 ανώτερα και ανώτατα στελέχη επιχειρήσεων, επιχειρηματίες καθώς και εκπρόσωποι της πολιτικής ηγεσίας.