Επιμελητήριο Αχαΐας: Culture and Shopping για 10η χρονιά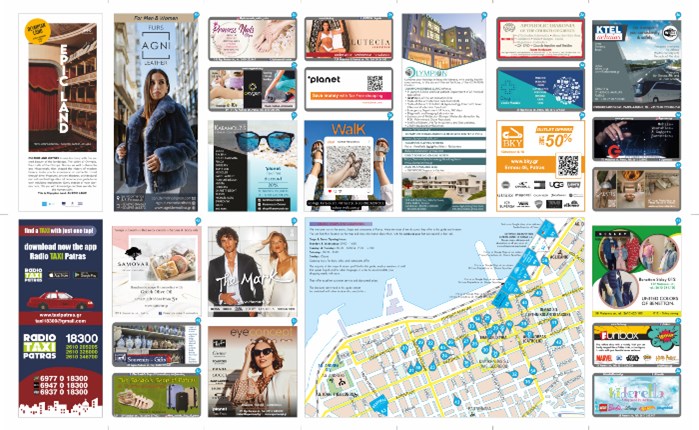 Για δέκατη συνεχόμενη χρονιά το ΕΠΙΜΕΛΗΤΗΡΙΟ ΑΧΑΪΑΣ υλοποιεί την δράση CULTURE AND SHOPPING που στοχεύει να υποδέχεται στην πόλη μας τουρίστες που έχουν επιλέξει την ευρύτερη περιοχή μας για τις θερινές τους διακοπές. Η δε επίσκεψη περιλαμβάνει τα αξιοθέατα αλλά και αγορές από το κέντρο της πόλης μας.
Στα πλαίσια αυτά εκδόθηκαν 20.000 ενημερωτικοί χάρτες με συμμετοχή και επιχειρήσεων μελών του Επιμελητηρίου Αχαϊας.
Οι επιχειρήσεις που συμμετέχουν στη δράση για το 2023 – 2024 αξιοποιώντας την επιδότηση του Επιμελητηρίου είναι 42.
Τα ξενοδοχεία στα οποία διανέμονται και τοποθετούνται σε ειδικά stands οι χάρτες είναι 22 στην Πάτρα και 34 στην ευρύτερη περιοχή Αχαΐας – Ηλείας.
Επισημαίνουμε ότι καθόλη τη διάρκεια του έτους δεχόμαστε αιτήματα των ξενοδοχείων για αναπλήρωση των χαρτών.
Οι Tour Operators θα διανέμουν χάρτες στους ταξιδιώτες τους, με τις προγραμματισμένες εκδρομές που πραγματοποιούν προς την Πάτρα.
Οι χάρτες εκδίδονται σε 4 γλώσσες (Αγγλικά, Γερμανικά, Γαλλικά, Ρώσικα) και περιλαμβάνουν αξιοθέατα, πληροφορίες, events, εμπορικές επιχειρήσεις.
Η τουριστική περίοδος ξεκίνησε νωρίτερα φέτος και εκτιμάται ότι θα διαρκέσει έως και τον Νοέμβριο.
Ο αριθμός των αναμενόμενων τουριστών (από Αγγλία, Γερμανία, Γαλλία, ΗΠΑ και Ρωσόφωνα κράτη Λετονία, Λιθουανία και Ρουμανία) και στην περιοχή μας εκτιμάται ότι θα είναι αυξημένος σε σχέση με το 2019.
Ταυτόχρονα επισκέπτονται την πόλη επιπλέον τουρίστες, εκτός οργανωμένων εκδρομών, οι οποίοι με τους χάρτες από τα ξενοδοχεία κάνουν τις αγορές τους από την τοπική αγορά.
Αξιοσημείωτο είναι ότι δημιουργείται μια σημαντική αλληλεπίδραση στην τοπική οικονομία. Ο τουρισμός που εξυπηρετείται ακόμα και με το πρόγραμμα "all inclusive", καταναλώνει προϊόντα από τοπικές επιχειρήσεις δημιουργώντας έτσι μία αύξηση της κατανάλωσης και της ενεργούς ζήτησης της τοπικής οικονομίας.