Στις 4 Μαΐου ξεκινά το 1ο Διεθνές Συνέδριο Τουρισμού Υγείας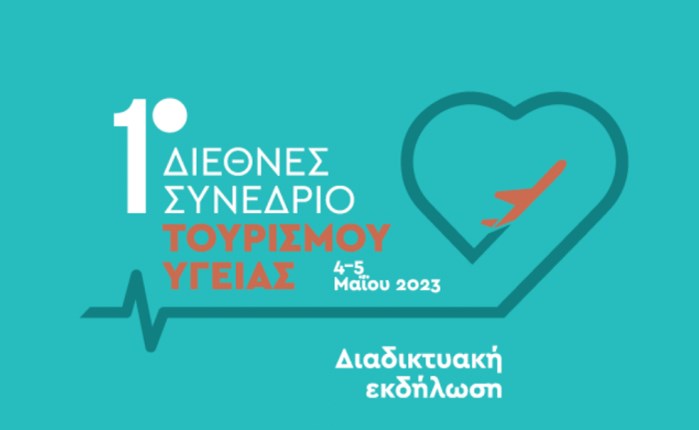 Σε μία εβδομάδα, την
Πέμπτη 4 Μαΐου 2023 στις 10:00 π.μ.
, ξεκινάει τις εργασίες του το
"1ο Διεθνές Συνέδριο Τουρισμού Υγείας"
, το οποίο θα διεξαχθεί διαδικτυακά για δύο ημέρες, την Πέμπτη 4 και την Παρασκευή 5 Μαΐου. Το Συνέδριο διοργανώνεται από το
Ινστιτούτο Κοινωνικής και Προληπτικής Ιατρικής (ΙΚΠΙ)
και τελεί υπό την αιγίδα των
Υπουργείων Υγείας και Τουρισμού,
καθώς και της
Περιφέρειας Αττικής
, σε συνεργασία με το
Ξενοδοχειακό Επιμελητήριο Ελλάδος.
Η επίσημη γλώσσα του συνεδρίου είναι η αγγλική και η συμμετοχή είναι δωρεάν. Για αναλυτικές πληροφορίες και εγγραφές επισκεφθείτε την επίσημη ιστοσελίδα του συνεδρίου
www.healthtravelconference.gr
Στο διήμερο που θα ακολουθήσει, διακεκριμένοι εμπειρογνώμονες και επιστήμονες από την Ελλάδα και το εξωτερικό θα ανταλλάξουν απόψεις, εμπειρίες, καλές πρακτικές και ιστορίες επιτυχίας, πάνω στους κύριους άξονες του συνεδρίου που είναι ο Ιατρικός και ο Ιαματικός Τουρισμός, καθώς και ο Τουρισμός Ευεξίας.
Το Συνέδριο θα χαιρετίσουν
ο Υπουργός Υγείας, Αθανάσιος Πλεύρης, ο Υπουργός Τουρισμού, Βασίλης Κικίλιας, και ο Πρόεδρος του Ξενοδοχειακού Επιμελητηρίου Ελλάδος, Αλέξανδρος Βασιλικός, ενώ ο Περιφερειάρχης Αττικής και Πρόεδρος της ΕΛΙΤΟΥΡ, Γιώργος Πατούλης, θα κηρύξει την έναρξη των εργασιών του Συνεδρίου.
Στην εναρκτήρια ομιλία του ο
Πρόεδρος της Οργανωτικής Επιτροπής, Ομότιμος Καθηγητής Ιατρικής του Πανεπιστημίου Αθηνών, Γιάννης Τούντας
, θα μας μυήσει στην Ιπποκράτειο αντίληψη για την υγεία και την ευεξία.
Ημέρα πρώτη
Με ιδιαίτερο ενδιαφέρον, την πρώτη ημέρα, αναμένονται, ανάμεσα σε πολλές άλλες, οι ομιλίες των: Michel Julian, Senior Programme Officer, Market Intelligence and Competitiveness, World Tourism Organization (UNWTO), Lutz Lungwitz, President, German Medical Wellness Association & Vice-president, Global Healthcare Travel Council που θα αναφερθεί στην Ιατρική Ευεξία, Keith Pollard, Editor in Chief, International Medical Travel Journal and Healthcare Consultant, Laing Buisson, UK, Riccardo Mortandello, Mayor of Montegrotto - Thermal region "Thermae Montegrotto Abano - Colli Euganei Natural Park", Italy για την ανάπτυξη ενός ιαματικού προορισμού, Csilla Mezosi, Secretary General of the European Spas Association (ESPA) για τις νέες υπηρεσίες στον Τουρισμό υγείας, Maria Todd, CEO, Mercury Healthcare, USA, η οποία θα μιλήσει για τον Τουρισμό Υγείας στην εποχή μετά τον COVID και Anne Dimon, CEO and co-founder, Wellness Tourism Association, USA για τη διερεύνηση των αναγκών των πελατών.
Ημέρα δεύτερη
Η δεύτερη ημέρα, η οποία είναι αφιερωμένη στην ελληνική πραγματικότητα, θα ξεκινήσει με την παρουσίαση του ρόλου της ΕΛΙΤΟΥΡ από τον Κωνσταντίνο Κουσκούκη, Πρόεδρο της Ελληνικής Ακαδημίας Ιαματικής Ιατρικής και του Ελληνικού Συνδέσμου Τουρισμού Υγείας, ενώ στη συνέχεια η Καλλιόπη Κούμπη, Γενική Διευθύντρια Οικονομικών Υποθέσεων από τον Εθνικό Οργανισμό Παροχής Υπηρεσιών Υγείας θα μιλήσει για την Οδηγία Διασυνοριακής Περίθαλψης 2011/24/Ε.Ε.
Στις αναγκαίες τομές και παρεμβάσεις στο θεσμικό πλαίσιο θα αναφερθούν: η Γενική Γραμματέας Τουριστικής Πολιτικής και Ανάπτυξης, Ολυμπία Αναστασοπούλου, ο Γενικός Γραμματέας Δημοσίων Επενδύσεων και Ε.Σ.Π.Α., Δημήτρης Σκάλκος, η Γενική Διευθύντρια του Συνδέσμου Ελληνικών Τουριστικών Επιχειρήσεων, Μαρία Γάτσου και ο Senior Project Manager Real Estate από το Ταμείο Αξιοποίησης Ιδιωτικής Περιουσίας του Δημοσίου, Παναγιώτης Αναγνωστόπουλος.
Επιστήμονες διαφόρων ειδικοτήτων και εκπρόσωποι εταιρειών θα παρουσιάσουν μια ολιστική και πολυεπίπεδη προσέγγιση του Τουρισμού Υγείας, καθώς και μελέτες επιτυχημένων περιπτώσεων στον Ιαματικό Τουρισμό και τον Τουρισμό Ευεξίας.
Στο κλείσιμο του Συνεδρίου, ο Μάρκος Δανάς, Γενικός Γραμματέας του Συνδέσμου Δήμων Ιαματικών Λουτρών Ελλάδας, καθώς και η Αγνή Χριστίδου, Διευθύντρια του Ξενοδοχειακού Επιμελητηρίου Ελλάδος, θα θέσουν τις βάσεις για τα επόμενα βήματα που θα πρέπει να γίνουν, ώστε το μέλλον του τουρισμού υγείας στην Ελλάδα να εδραιωθεί και να γνωρίσει επιτυχίες.