MSCOMM: Συνδιοργανώτρια του 1ου Διεθνούς Γαστρονομικού και Πολιτιστικού Συμποσίου YALE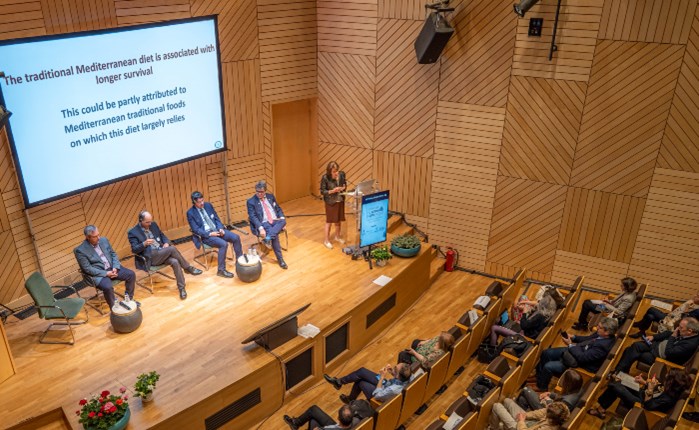 H MSCOMM ήταν συνδιοργανώτρια του ιδιαίτερα επιτυχημένου 1ου Διεθνούς Γαστρονομικού και Πολιτιστικού Συμποσίου YALE, το οποίο πραγματοποιήθηκε στο Ηράκλειο από το κορυφαίο Πανεπιστήμιο, τον Δήμο Ηρακλείου σε συνεργασία με την Περιφέρεια Κρήτης.
Στο συνέδριο παρουσιάστηκαν τα οφέλη της κρητικής δίαιτας που είναι η βάση της μεσογειακής διατροφής καθώς και ο κρητικός τρόπος ζωής. Εκπρόσωποι της ακαδημαϊκής κοινότητας, επιδραστικές προσωπικότητες της διεθνούς κοινότητας αλλά και σημαντικοί παράγοντες της τοπικής αυτοδιοίκησης και της τουριστικής και αγροδιατροφικής επιχειρηματικότητας της Κρήτης, τίμησαν με τη συμμετοχή τους τη σημαντική πρωτοβουλία.
Το συνέδριο ήταν πολυεπίπεδο και σε αυτό παρουσιάστηκαν επίσης οι καταβολές, το ιστορικό υπόβαθρο και οι πολιτιστικές παραδόσεις που δημιούργησαν την επονομαζόμενη Μεσογειακή δίαιτα, ενώ αναδείχθηκε και ο γαστρονομικός πλούτος της Κρήτης.
Εισηγήσεις και ομιλίες έκαναν οι Αντωνία Τριχοπούλου, ομότιμη καθηγήτρια Διατροφής και Προληπτικής Ιατρικής, Τάσος Κυριακίδης, Assistant Professor, Yale School of Public Health, Βασίλης Βασιλείου, Καθηγητής και Πρόεδρος στο Τμήμα Περιβαλλοντικής Υγείας,Yale School of Public Health, Carlo La Vecchia, MD, Professor of Medical Statistics and Epidemiology, Dept. of Clinical Sciences and Community Health, Università degli Studi di Milano, Prisco Priscitelli, UNESCO Chair in Health Education and Sustainable Development, Jean Claude Moubarac, Faculté de médecine Université de Montréal, Guansheng Ma, Professor, Chair of Department of Nutrition and Food Hygiene, School of Public Health Peking University, Μιχάλης Καθαράκης, Αντιπρόεδρος του Περιφερειακού Συμβουλίου Έρευνας και Καινοτομίας Κρήτης, Στέργιος Πιρίντσος, Καθηγητής Βιολογίας του Πανεπιστημίου Κρήτης, Artemis Morris, ND L.AC Artemis Welness, Ηλίας Καστανάς, Καθηγητής Εργαστηριακής Ενδοκρινολογίας Πανεπιστημίου Κρήτης, Αrtemis Morris, Artemis Wellness Center, Μαρία Πρωτοπαπά-Μαρνέλη, ερευνήτρια του Κέντρου Ερεύνης της Ελληνικής Φιλοσοφίας της Ακαδημίας Αθηνών, Ιωάννης Ασλανίδης, Πρόεδρος του Ελληνικού Κολλεγίου Οφθαλμολογίας, Clinical Director of Emmetropia Mediterranean Eye Institute, Assistant Professor of Ophthalmology, Weill Cornell, New York, USA, Φάνης Ζαμπετάκης, Καρδιολόγο – Επεμβατικό Καρδιολόγο, Επιστημονικό διευθυντή Ασκληπιός Διάγνωσις Νίκος Ψιλάκης, συγγραφέας και δημοσιογράφος, Πάνος Σαρρής Group Leader IMBB – FORTH, Asst Professor University of Crete, Hon. Professor University of Exeter, Rafi Taherian, Associate Vice President Yale Hospitality, Rick Smilow, CEO, Institute of Culinary Education of NYC, Fedon Alexander Lindberg, Συγγραφέας, Bill Telepan, Executive Chef Metropolitan Museum of Art at NYC, Κωνσταντίνος Τριανταφύλλης, Group Marketing & PR Director και μέλος της Επιτροπής Βιωσιμότητας του Metaxa Hospitality Group, Μανώλης Παπουτσάκης, σεφ, Σεβαστή Χατζοπούλου, Associate Professor, Roskilde University, Aylin Öney Tan, Conservation architect, food writer/historian, Μαριάνα Καβρουλάκη, Πειραματική αρχαιολόγος – Ιστορικός διατροφής, Αναστασία Τζιγκουνάκη, καθώς και η αφηγήτρια η Ισαβέλλα Ζαμπετάκη.
Το Συμπόσιο διοργανώθηκε από τον Δήμο Ηρακλείου και το Πανεπιστήμιο YALE (YALE School of Public Health and Yale Hospitality), σε συνεργασία με την Περιφέρεια Κρήτης και τον Αναπτυξιακό Οργανισμό Ηρακλείου. Συνδιοργανωτές ήταν η MSCOMM, το EIT Food Hub Greece και οι Industry Disruptors Game Changers.
Η εκδήλωση τελούσε υπό την αιγίδα του ΕΟΤ, Χρυσός Χορηγός ήταν τα PHAEA Resorts, Metaxa Hospitality και Επίσημος Χορηγός Αερομεταφορών η Aegean Airlines.
Χορηγοί ήταν οι: Enterprise Greece, Μπύρα ΑΛΦΑ , Παγκρήτια Τράπεζα, Οργανισμός Λιμένος Ηρακλείου, Melissa-Kikizas, Terra Creta, Emmetropia, Ασκληπιός Διάγνωσις, Prime MD, Doctor Near You, Prime Health Med. Χορηγοί Μεταφορών ήταν οι Autohellas Hertz, ACCTA, Golden Coaches.