Laurent Delmouly: Δεν είμαστε «καλλιτέχνες» αλλά brand builders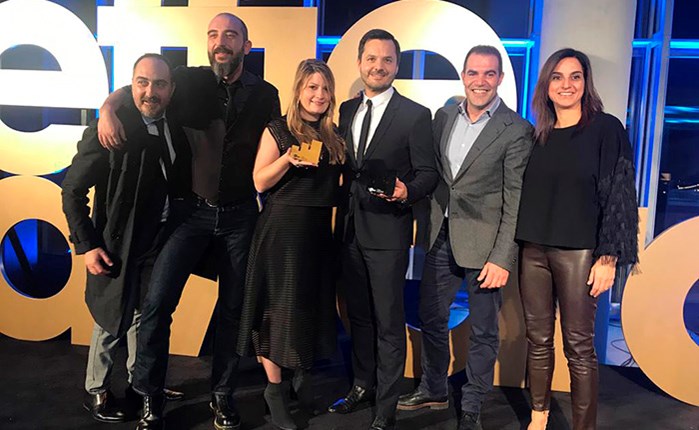 The english text of the interview follows the version in Greek at the end

O Διευθυντής Marketing της Αθηναϊκής Ζυθοποιίας μάς μιλά για την πρόσφατη διάκριση της ΑΛΦΑ στα Effie Hellas 2018 καθώς και για τη γενικότερη φιλοσοφία του brand ως προς το marketing.

adb: Τι σημαίνει για εσάς η πρόσφατη διάκριση στα Effie Hellas 2018;
L.D.: Αρχικά, η βράβευση με Gold Effie στην κατηγορία Αλκοολούχων Ποτών μάς προσφέρει μεγάλη ικανοποίηση, όμως η βράβευση με Grand Effie είναι πραγματικά κάτι ξεχωριστό για την ΑΛΦΑ. Θεωρούμε μεγάλη τιμή ότι η καμπάνια μας κατάφερε να υπερισχύσει του δημιουργικού έργου όλων των υπολοίπων brands στις διάφορες κατηγορίες. Αυτή η σημαντική διάκριση έχει ακόμα μεγαλύτερη αξία για εμάς, καθώς αποτελεί αναγνώριση μιας νέας διαφημιστικής προσέγγισης που έφερε σημαντικά αποτελέσματα στις επιδόσεις της ΑΛΦΑ. Όταν, το 2016, προβάλαμε «Το βήμα», την πρώτη επικοινωνία της τριλογίας, με τον μπαμπά να μαθαίνει να χορεύει ενόψει του γάμου της κόρης του, η ΑΛΦΑ έκανε challenge τον τρόπο επικοινωνίας της κατηγορίας της μπίρας. Η μάρκα είναι τώρα ο ηγέτης, όχι μόνο όσον αφορά τις πωλήσεις, αλλά και από άποψη mental leadership. Η δημιουργικότητα είναι η ουσία αυτού που κάνουμε, αλλά σίγουρα πρέπει να εξυπηρετεί έναν επιχειρησιακό σκοπό και να είναι αποτελεσματική, καθώς δεν είμαστε «καλλιτέχνες» αλλά brand builders!

adb: Θα μας δώσετε κάποια στοιχεία για τα αποτελέσματα της καμπάνιας, τα οποία και οδήγησαν σε αυτήν τη διάκριση;
L.D.: Αρχικά η διάδοση της καμπάνιας από το πρώτο μόλις 24ωρο και χωρίς καμία επένδυση ήταν κάτι πρωτόγνωρο. Αποτέλεσμα ήταν ότι μέσα στην πρώτη εβδομάδα η ταινία «Το βήμα» ξεπέρασε τα 1.000.000 views (YouTube-Facebook), ενώ μέχρι το τέλος του 2016 είχε περισσότερα από 2.000.000 views. Οι δημοσιογράφοι αγκάλιασαν την καμπάνια και μίλησαν αυθόρμητα για αυτή με τα πλέον συγκινητικά λόγια, προσφέροντάς μας έναν μεγάλο αριθμό earned media. Παράλληλα, το «Θες», το εκπληκτικό τραγούδι του soundtrack της ταινίας, έγινε No1 στο iTunes και Νο5 στο Top 100 Shazam chart.

Αποτέλεσμα ήταν να επανακυκλοφορήσει το CD του Δημήτρη Μητροπάνου σε νέα έκδοση, 11 χρόνια μετά την πρώτη κυκλοφορία. Όλα αυτά είχαν αντίστοιχα θετικό αποτέλεσμα στον όγκο πωλήσεων, με τη μάρκα να ξεπερνάει τους στόχους της κατά πολύ.

adb: Ποιος ήταν ο στόχος της καμπάνιας;
L.D.: Στόχος της καμπάνιας ήταν να αξιοποιήσει ένα ισχυρό insight: κανείς δεν πρέπει να θεωρεί δεδομένη τη σχέση του με τους αγαπημένους του. Το να καλλιεργείς δεσμούς που διαρκούν απαιτεί καθημερινή προσπάθεια, και η ΑΛΦΑ είναι εκεί για να μας ενθαρρύνει να κάνουμε ό,τι χρειάζεται για να τους διαφυλάξουμε. Όσον αφορά την υλοποίηση της καμπάνιας, το όραμά μας ήταν να σπάσουμε τους συνήθεις κώδικες επικοινωνίας της κατηγορίας μπίρας, έτσι ώστε να εκπλήξουμε και να αγγίξουμε το κοινό.

Έτσι προέκυψε η αφήγηση μιας ιστορίας και μια συναισθηματική προσέγγιση που δημιούργησε μια εντελώς διαφορετική πτυχή για τις διαφημίσεις μπίρας. Η τολμηρή αυτή κίνηση ανταμείφθηκε από τα εκατομμύρια των καταναλωτών τα οποία άγγιξε η ιστορία της ΑΛΦΑ: άνθρωποι χαμογέλασαν, έκλαψαν, τραγούδησαν, ταυτίστηκαν με τους χαρακτήρες και την ιστορία της οικογένειας.

adb: Ποιο είναι το USP της ΑΛΦΑ και πώς αντικατοπτρίστηκαν οι αξίες του brand στην καμπάνια;

L.D.: Η ΑΛΦΑ είναι μια μάρκα που για πρώτη φορά κυκλοφόρησε το 1961. Τότε οι σχέσεις ήταν πολύ πιο απλές, πιο γνήσιες, ανθρώπινες και με διάρκεια στο χρόνο. Και αυτό έχει αποτυπωθεί στο DNA της ΑΛΦΑ. Μέσω της καμπάνιας, η μάρκα θέλησε να μας υπενθυμίσει τα καλά εκείνων των εποχών, παροτρύνοντάς μας να μην ξεχνάμε να βάζουμε σε πρώτη προτεραιότητα τους δικούς μας ανθρώπους που πολλές φορές πλέον, με τους ρυθμούς που ζούμε, συχνά αμελούμε και, φυσικά, να βγάλουμε μπροστά την «ΑΛΦΑ πλευρά μας», που μας κάνει πιο ανθρώπινους και αυθεντικούς.

adb: Η καμπάνια βασίστηκε στη δημιουργικότητα και απέχει πολύ από τυχόν hard-selling προσεγγίσεις. Θεωρείτε τελικά πως η δημιουργικότητα είναι ο καλύτερος τρόπος για να είναι αποτελεσματική μια καμπάνια;

L.D.: Η αλήθεια είναι ότι η απόφασή μας τότε ήταν ένα ρίσκο, που συνειδητά αποφασίσαμε να πάρουμε: να τολμήσουμε να εφαρμόσουμε μια εντελώς διαφορετική προσέγγιση από ό,τι είχε χρησιμοποιηθεί στην κατηγορία μπίρας. Και αυτή ήταν η προσέγγιση που έφερε την ΑΛΦΑ πιο κοντά στους ανθρώπους εκεί έξω, μιλώντας στις καρδιές τους. Βέβαια, το εκπληκτικό αποτέλεσμα ήταν συνδυασμός του θέματος της καμπάνιας, του χαρακτήρα της ίδιας της μάρκας και, φυσικά, της ποιότητας παραγωγής των ταινιών. Είναι μια σειρά άρτια αποδομένων ιστοριών, που μιλάνε για τις ανθρώπινες σχέσεις με τρόπο απλό και αληθινό, που άγγιξαν ανθρώπινες χορδές και ουσιαστικά δημιούργησαν κάτι περισσότερο από μια απολαυστική διαφήμιση. Έτσι, η δημιουργικότητα είναι ένα βασικό συστατικό για την επιτυχία μιας καμπάνιας, αλλά χρειάζεται και αυτό που συνηθίζω να αναφέρω ως «ευθυγράμμιση πλανητών», μια αλχημεία μεταξύ μιας δημιουργικής ιδέας, ενός brand και του συνολικού περιβάλλοντος. Και αυτό είναι πολύ δύσκολο να επιτευχθεί, καθώς την αλχημεία δεν μπορείς να την επηρεάσεις...

adb: Θεωρείτε πως η αγορά ζύθου ως κατηγορία επιτρέπει με μεγαλύτερη ευκολία πιο δημιουργικές προσεγγίσεις;

L.D.: Αυτό που δούλεψε για την ΑΛΦΑ δεν θα δουλέψει απαραίτητα για κάποιο άλλο brand, και καθώς οι καταναλωτές είναι πλέον πολύ καλά ενημερωμένοι και διαρκώς συνδεδεμένοι, είναι όλο και πιο δύσκολο να τους εκπλήξεις. Μια μάρκα με χαμηλό επίπεδο δημιουργικότητας δεν θα κεντρίσει το ενδιαφέρον των καταναλωτών. Μόνο τα brands με πρωτότυπες ιδέες θα έχουν αυτό που αναφέρεται ως stopping power και είναι απαραίτητο όταν μιλάμε για την ψηφιακή επικοινωνία. Ο συνδυασμός ενός εξελισσόμενου τοπίου στα Μέσα ενημέρωσης -με την ταχεία άνοδο του digital- και η αυξανόμενη τεχνογνωσία των καταναλωτών ωθεί πράγματι την κατηγορία μπίρας, όπως και άλλες κατηγορίες, να αυξήσουν το ποσοστό δημιουργικότητας, και θα πρέπει να είμαστε ευτυχείς γι' αυτό.

www.alfabeer.gr
(English text follows)
Laurent Delmouly - Marketing Director Athenian Brewery

We are not artists but brand builders!

Athenian Brewery's Marketing Director on the recent distinction for ALFA in Effie Hellas 2018 and the brand's broader philosophy on marketing.

adb: What does the recent distinction in Effie Hellas 2018 mean for you?
L.D.: First of all, to get the Gold Effie for Beverage Category is a great satisfaction, but to receive the Grand Effie Award is very special for ALFA. We are very honored that our campaign outperformed the creative work of all other brands across Categories. This prestigious distinction is all the more important for us that it's the recognition of a new creative approach which had a major impact on the business performances of ALFA. When we aired back in 2016 'The Step' - the first episode of our trilogy featuring a dad learning how to dance for his daughter's wedding - ALFA was the challenger of the beer category. The brand is now the leader not only in terms of sales, but also in terms of mental leadership. Creativity is the essence of what we do, but it has to serve a business purpose and to be effective as we are not artists but brand builders!
adb: Will you give us some information about the campaign results which led to this distinction?
L.D.: Initially, the spread of the campaign in just the first 24 hours and without any investment was unprecedented. The result was that within the first week "The Step" exceeded 1,000,000 views (YouTube-Facebook), and by the end of 2016 reached more than 2,000,000 views. Journalists embraced the campaign and spoke spontaneously and with the most emotional words about it, offering us a substantial amount of earned media. At the same time, "Thes" - the iconic sound track of the film - became No1 in iTunes and No5 in the Top 100 Shazam chart. As a result, the CD of Dimitris Mitropanos was issued in a new version 11 years after its first release. All these also had a positive impact on the sales volume, leading the brand to exceed its goals by far.

adb: What was the goal of the campaign?
L.D.: The purpose of the campaign was to leverage a strong insight: no one should take for granted his relationships with his beloved ones. It's a daily effort to nurture bonds that last and ALFA is there to encourage us to do whatever it takes to preserve and cherish them. Regarding the execution of the campaign, our vision was to break the usual codes of the beer category so as to surprise and touch the audience. Hence a storytelling and emotional approach which shined a brand new light on the beer advertising. This bold move we made has been rewarded by millions of consumers who were touched by the ALFA story: people smiled, cried, sang, identified themselves to the characters and to a family allegory they could relate to.

adb: What is the USP of ALFA and how have the brand values been reflected in the campaign?

L.D.: ALFA is a brand first launched in 1961. At that time relationships were much simpler, more genuine and long-lasting. And this has been imprinted on ALFA's DNA. Through the campaign, the brand wanted to remind us of the positives of those times, urging us not to forget to put our own people as our top priority as we often neglect them due to the fast pace of our lives and, of course, to bring up the ALFA side of ours that makes us more human and authentic.

adb: The campaign was based on creativity and is far from any hard-selling approaches. Do you think that creativity is the best way to make a campaign work?

L.D.: The truth is that our decision back then was a risk that we consciously took: dare to implement a completely different approach than what was applied in the beer category. Having said that, this is the approach that brought ALFA closer to people out there, by speaking to their hearts. Of course, the outstanding result was a combination of what the campaign was about, the character of the brand itself and the quality of the production. It is a series of well-attributed stories that talk simply and truly about human relationships, which touched human strings and essentially created more than just an enjoyable ad. So creativity is an essential ingredient to make a campaign successful, but you also need what I like to call 'alignment of planets', an alchemy between a creative concept, a brand and its overall environment. And this is very difficult to achieve as alchemy can't be decreed…

adb: Do you think the beer market as a category more easily allows for more creative approaches?

L.D.: What worked for ALFA will not necessarily work for another brand, and as consumers are now very well informed and connected almost non-stop, it's more and more challenging to surprise them. A brand with a low level of creativity will not attract consumers' interest. Only brands that display innovative concepts will have a stopping power, a must when it comes to digital communication. The combination of an evolving media landscape - with the fast rise of digital - and the growing expertise of consumers is indeed pushing the beer category like more categories to raise the bar when it comes to creativity, and we should be glad about that.