«Προϊόν της Χρονιάς 2023»: Ξεκίνησε η περίοδος υποβολής συμμετοχών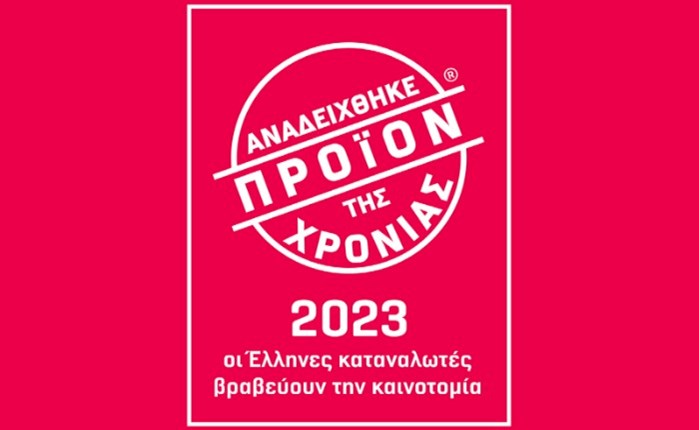 Ξεκίνησε η περίοδος υποβολής συμμετοχών για το «Προϊόν της Χρονιάς 2023».
Πρόκειται για την πέμπτη διοργάνωση του μεγαλύτερου και πιο σημαντικού θεσμού καινοτομίας από την Direction Business Network, με στόχο να αναδειχθούν για ακόμη μία χρονιά τα πλέον καινοτόμα προϊόντα και οι υπηρεσίες της εγχώριας αγοράς.
Όπως σε κάθε διοργάνωση του θεσμού, οι ίδιοι οι καταναλωτές πρόκειται να αναδείξουν και να επιβραβεύσουν τα προϊόντα και τις υπηρεσίες που ξεχωρίζουν και ανταποκρίνονται στις ανάγκες τους μέσα μέσα από μια πανελλαδική έρευνα, που διεξάγεται από την IRI Hellas.
Φέτος, η περίοδος δήλωσης συμμετοχών αναμένεται να διαρκέσει μέχρι την Τετάρτη 30 Νοεμβρίου. Ο θεσμός δίνει για ακόμη μία χρονιά την ευκαιρία σε προϊόντα από διάφορες κατηγορίες του συνόλου της αγοράς να αναδειχθούν για την καινοτομία τους και να επωφεληθούν από τα πλεονεκτήματα επικοινωνίας του λογοτύπου «Αναδείχθηκε Προϊόν της Χρονιάς».
Το «Προϊόν της Χρονιάς» (Voted Product of the Year) είναι ο μεγαλύτερος και σημαντικότερος θεσμός βράβευσης διεθνώς σχετικά με την καινοτομία καταναλωτικών προϊόντων και υπηρεσιών, με τις διακρίσεις να προκύπτουν μετά από ψηφοφορία του καταναλωτικού κοινού.
Ιδρύθηκε στη Γαλλία το 1987 και πλέον διοργανώνεται σε πάνω από 45 χώρες ανά τον κόσμο, με τον ίδιο κύριο σκοπό: να αναδεικνύει τα νέα καινοτόμα προϊόντα της αγοράς και να επιβραβεύει τις επιχειρήσεις που τα δημιουργούν για την επένδυση και την πίστη τους στην καινοτομία.
Για καλύτερη ενημέρωσή σας επισκεφθείτε τον ιστότοπο
www.productoftheyear.gr
.