​Στις 7/9 το TFTD 2023 | AI in Action: Transforming Business, Work and Life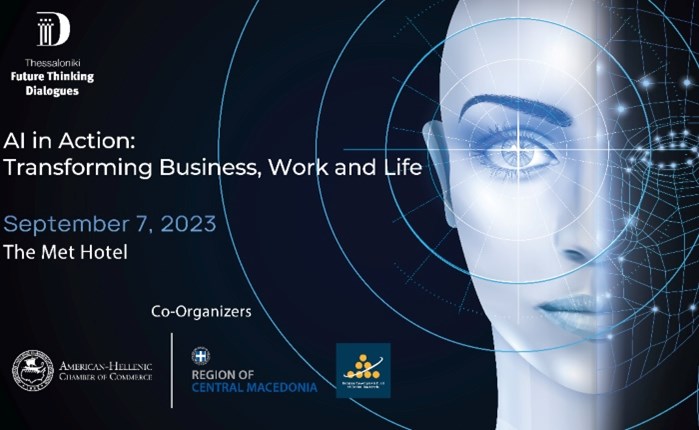 Το Ελληνο-Αμερικανικό Εμπορικό Επιμελητήριο και η Περιφέρεια Κεντρικής Μακεδονίας συν-διοργανώνουν το "3ο Thessaloniki Future Thinking Dialogues" (TFTD), το οποίο θα πραγματοποιηθεί στις 7 Σεπτεμβρίου στο ξενοδοχείο "The MET" στη Θεσσαλονίκη, με τίτλο: "AI in Action: Transforming Business, Work and Life."
Η Τεχνητή Νοημοσύνη (ΤΝ), αναδεικνύεται πλέον ως μια σταθερά με έντονη και δυναμική επιδραστικότητα στη ζωή, την επιχειρηματικότητα και την εργασία σε παγκόσμιο επίπεδο. Από την αυτοματοποίηση των εργασιών, τη μηχανική μάθηση, την αναγνώριση και επεξεργασία προτύπων, καθώς επίσης και την "προσομοίωση της ανθρώπινης ευφυίας", η ΤΝ δημιουργεί μια νέα πραγματικότητα, μετασχηματίζοντας τον τρόπο που αλληλοεπιδρούμε, εργαζόμαστε και προσδιορίζουμε τις επιχειρηματικές μας δραστηριότητες.
Οι νέες ευκαιρίες και διαδρομές καινοτομίας και δημιουργικότητας, με την ανθρώπινη εφευρετικότητα και παραγωγικότητα να συμπορεύεται με την τεχνολογία αλλά και με μια σειρά από ζητήματα ηθικής, διαφάνειας και ασφάλειας, συνιστούν μια πλατφόρμα ανοιχτού και εξωστρεφούς διαλόγου που θα διατηρήσει αμείωτο το ενδιαφέρον όλων όσων θα παρακολουθήσουν τις εργασίες του Συνεδρίου. Το σύνολο των ζητημάτων και των προβληματισμών θα τεθεί στο επίκεντρο του διαλόγου από εξέχουσες προσωπικότητες, τόσο από την Ελλάδα όσο και διεθνείς, από το θεσμικό, ερευνητικό, εκπαιδευτικό, επιχειρηματικό και τεχνολογικό οικοσύστημα.
Ξεχωριστές στιγμές του Συνεδρίου θα αποτελέσουν: η παρουσία του Jeremy White, Senior Innovation Editor, Wired Magazine, o οποίος μεταφέροντας τη διεθνή εμπειρία του θα αναφερθεί στον τρόπο με τον οποίο η Τεχνητή Νοημοσύνη προσαρμόζει και μετασχηματίζει την εργασιακή μας συμπεριφορά. Επιπρόσθετα με ιδιαίτερο ενδιαφέρον αναμένονται οι συζητήσεις με τους: Γιάννη Μαστρογεωργίου, Special Secretary, Presidency of the Government Special Secretariat of Foresight, για την ΤΝ και τις μελλοντικές προκλήσεις της Ελλάδας, σε επίπεδο σχεδιασμού και προοπτικής της χώρας καθώς επίσης και η ενότητα συζητήσεων σε πολλαπλά επίπεδα για την ενσωμάτωση της ΤΝ ως εργαλείο ανάπτυξης στην εκπαίδευσης, με τη συμμετοχή του αρμόδιου Υπουργού κ. Κυριάκου Πιερρακάκη.
Το συνέδριο, πέραν των προαναφερομένων, θα τιμήσουν με την παρουσία τους:
Julie Dillman, Executive Vice President, Chubb Group
Pam Dixon, Founder and Executive Director, World Privacy Forum
Carolin Eggers, Director, Google Cloud EMEA l Data Analytics & AI
Nico Gariboldi, Vice President, Thessaloniki Site Lead, Pfizer
Jerry Ismail, Consul General, US Consulate General Thessaloniki
Michael Kratsios, Managing Director, Scale AI, 4th CTO, United States
Vincent Müller, A. v. Humboldt Professor, Philosophy and Ethics of AI and Director, Centre for Philosophy and AI Research, Friedrich-Alexander Universität Erlangen-Nürnberg
Costi Perricos, Global Artificial Intelligence and Data Lead Partner, Deloitte UK
Andrea Renda, Senior Research Fellow and Head of Global Governance, Regulation, Innovation and Digital Economy, Centre for European Policy Studies (CEPS)
Sean Ringsted, Executive Vice President, Chubb Group; Chief Digital Business Officer
Ηλίας Βυζάς, Partner, Head of Consulting, EY Greece
Πέτρος Δρινέας, Professor and Associate Head, Department of Computer Science, Purdue University
Γιώργος Ζαρκαδάκης, Chief Innovation Officer, Syndesis Health
Μιχάλης Μπλέτσας, Director of Computing, MIT Media Lab
Λουκία Σαράντη, Πρόεδρος, Σύνδεσμος Βιομηχανιών Ελλάδος (ΣΒΕ)
Μιλτιάδης Σαρατζίδης, CTO and Senior AI engineer, Eden Protocol
Απόστολος Τζιτζικώστας, Περιφερειάρχης Κεντρικής Μακεδονίας
Χάρης Τσαβδάρης, Managing Director, Enterprise Digital, PwC Greece