Συνάντηση των μελών του ΣΕΚΕΕ με φορείς του οικοσυστήματος της καινοτομίας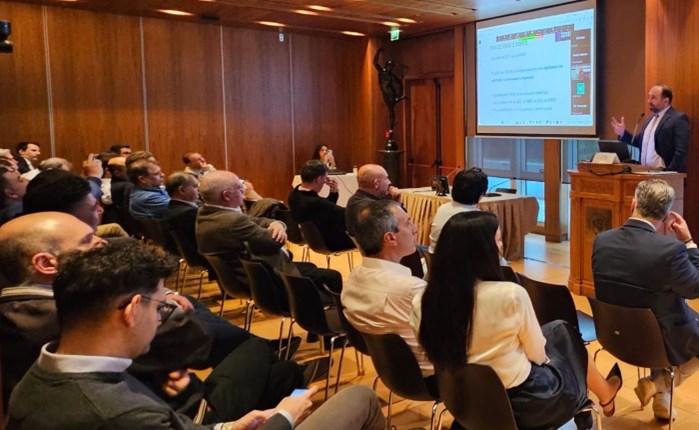 Σε εκδήλωση, που διοργάνωσε ο Σύνδεσμος Επιχειρήσεων Καινοτόμων Εφαρμογών Ελλάδος (ΣΕΚΕΕ) για τα μέλη του στο Χρηματιστήριο Αθηνών, παρουσιάστηκαν τα σχέδια και οι στόχοι του ΣΕΚΕΕ για την επόμενη διετία. Στην εκδήλωση αυτή συμμετείχαν ενεργά και φορείς του οικοσυστήματος προωθώντας δράσεις μεταξύ των μελών του ΣΕΚΕΕ και των φορέων αυτών.
Στην εκδήλωση του Συνδέσμου Εταιρειών Καινοτόμων Εφαρμογών Ελλάδος (ΣΕΚΕΕ) συμμετείχαν και μίλησαν οι κ.κ. Σπύρος Αρσένης - επικεφαλής Ανάπτυξης Καινοτόμου Επιχειρηματικότητας της Εθνικής Τράπεζας, και του προγράμματος NBG Business Seeds, Μιχάλης Δρίτσας - Δ/νων Σύμβουλος της Elevate Greece, Σωτήρης Καραγιάννης – Chief Innovation Officer στην Space Hellas, Νίκος Κοσκολέτος - Οικονομικός Διευθυντής του Χρηματιστηρίου Αθηνών, Νικόλαος Μυλωνάς - Ομότιμος Καθηγητής και Ακαδημαϊκός Σύμβουλος του Κέντρου Καινοτομίας και Επιχειρηματικότητας 'Αρχιμήδης', και ο Περικλής Τερλιξίδης - Εκτελεστικός Διευθυντής του Attica Hub for the Economy of Data and Devices (AHEDD) του ΕΚΕΦΕ Δημόκριτος.
«Στην εποχή του ψηφιακού μετασχηματισμού και των καταιγιστικών εξελίξεων της τεχνολογίας, βασικά συστατικά επιτυχίας της προσπάθειάς μας είναι η ενδυνάμωση των συνεργασιών μεταξύ των μελών μας αλλά και με όλους τους φορείς, που έχουν ρόλο στην προώθηση της καινοτομίας και της εξωστρέφειας. Μόνο μέσω της ουσιαστικής και παραγωγικής επικοινωνίας θα καταφέρουμε να πετύχουμε τους στόχους που έχουμε θέσει και να δημιουργήσουμε προστιθέμενη αξία», τόνισε ο Μάνος Μακρομάλλης, Πρόεδρος του ΣΕΚΕΕ.
Σε μία περίοδο όπου, η έννοια της καινοτομίας πρωταγωνιστεί, ο ΣΕΚΕΕ εστιάζει στην περαιτέρω ενίσχυση του οικοσυστήματος και στη διαμόρφωση των προϋποθέσεων ώστε τα μέλη του να κερδίσουν το στοίχημα της ανάπτυξης και της εξωστρέφειας.
Το σχέδιο ανάπτυξης των καινοτόμων ελληνικών επιχειρήσεων έχει αρχίσει να υλοποιείται. Ο ΣΕΚΕΕ ενισχύει την αναγνωρισιμότητα του Συνδέσμου με δράσεις που έχουν ως στόχο να αυξήσουν την αξία προς τα μέλη αλλά και το πλήθος αυτών, με εταιρείες που παρέχουν καινοτόμες λύσεις σε κλάδους, όπως είναι η ναυτιλία, τα logistics, ο τουρισμός και ο πολιτισμός, οι παραγωγικές βιομηχανίες, ο αγροδιατροφικός κλάδος, η υγεία, η ηλεκτρονική διακυβέρνηση, οι έξυπνες πόλεις, το IoT και οι τηλεπικοινωνίες.
Ο ΣΕΚΕΕ ιδρύθηκε το 2010 από 32 επιχειρήσεις υψηλής τεχνολογίας. Σήμερα εκπροσωπεί έναν δυναμικό κλάδο με περισσότερες από 70 εταιρείες, που απασχολούν περί τους 4.000 εργαζομένους, μεταξύ των οποίων 1.000 επιστήμονες υψηλής ακαδημαϊκής εκπαίδευσης. Οι εταιρείες-μέλη του Συνδέσμου έχουν συνολικό κύκλο εργασιών περί τα 400 εκατ. ευρώ και διαθέτουν παρουσία σε 40 χώρες. Οι δραστηριότητές τους εκτείνονται στον σχεδιασμό και ανάπτυξη προϊόντων και εφαρμογών με την χρήση νέων τεχνολογιών (λ.χ. blockchain, Artificial Intelligence, Internet of Things, κα) που απευθύνονται στους τελικούς χρήστες, και τις υπηρεσίες στους τηλεπικοινωνιακούς παρόχους, μέχρι την παροχή καινοτόμων υπηρεσιών επικοινωνίας, περιεχομένου και εφαρμογών, mobile marketing, κ.ά.