Cannes Deconstructed από την ΕΔΕΕ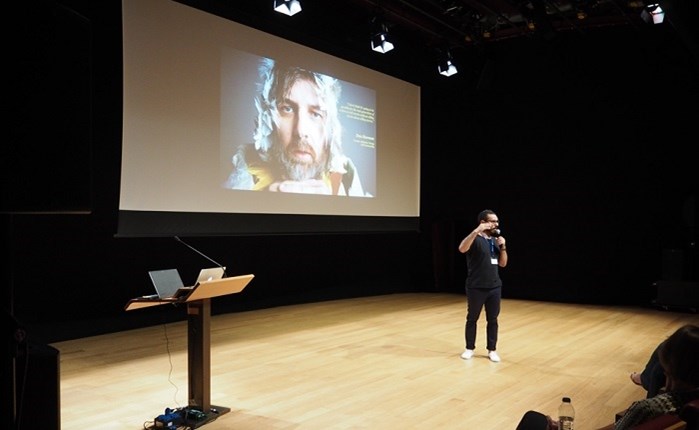 Ένα ταξίδι αστραπή για να μπορέσουν να πάρουν όλοι μια γεύση για το τι ακριβώς συνέβη στο φεστιβάλ των Καννών, διοργάνωσε η Ένωση Εταιριών Διαφήμισης και Επικοινωνίας Ελλάδος, τη Δευτέρα 18 Σεπτεμβρίου στη Στέγη Γραμμάτων και Τεχνών.
Η Georgia Malden, Senior Insider Strategist στην Contagious Communications και ο Γιώργος Γαρεφαλάκης , Creative Director στη Soho Square Athens ανέλυσαν τις καμπάνιες που ξεχώρισαν στο Φετινό Φεστιβάλ από την δική του οπτική ο καθένας.
Η Georgia Malden ανέφερε ως γενικότερο vibe των Καννών το "Come have a smoothie while we ruin your business" καθώς, από τη μια συνεχώς αυξάνει η συμμετοχή και η παρουσία των εταιριών τεχνολογίας και το φεστιβάλ τείνει να γίνει ένα tech show, ενώ από την άλλη όλο και μειώνεται προσέλευση στελεχών από τις εταιρίες επικοινωνίας. Η ομιλία της συνεχίστηκε με αναφορά στα grand prix του Φετινού Διαγωνισμού καθώς και στο ρόλο των γυναικών στη βιομηχανία της διαφήμισης. Ανέλυσε πως δείγματα από τις καλύτερες δουλειές έγιναν κομμάτι του πολιτισμού και στήριξε την χρήση τεχνητής νοημοσύνης (AI) για την θεμελιώδη υποστήριξη δημιουργικών ιδεών. Τέλος, έκλεισε με ορισμένες προβλέψεις για το 2018. Θα αποτελέσουν άραγε οι κατηγορίες Entertainment, Creative Effectiveness και Innovation τις δυναμικότερα αναπτυσσόμενες για και οι κατηγορίες Print & Outdoor αυτές με τη μεγαλύτερη μείωση στον αριθμό των συμμετοχών;
Ο Γιώργος Γαρεφαλάκης από την άλλη, κάνοντας μία πιο fun προσέγγιση προβλημάτισε το κοινό, καθώς ανέλυσε πιο πολύ την σχέση των Ελλήνων διαφημιστών με το Φεστιβάλ των Καννών και τις πιθανότητες / δυνατότητες που έχει ένα Ελληνικό Agency να διακριθεί σε αυτό. Χαρακτηριστικά ανέφερε, "Υπάρχει ένα επιτυχημένο μοντέλο για storytelling που ορίζει τις πιο δημοφιλείς ιστορίες παγκοσμίως. Τι ιστορία θα μας έδινε αν οι πρωταγωνιστές ήταν Έλληνες διαφημιστές και το context ήταν το φεστιβάλ των Καννών; Αυτή η ιστορία έχει happy end;"
Η Ένωση Εταιριών Διαφήμισης και Επικοινωνίας Ελλάδος (ΕΔΕΕ), αποτελεί τον επίσημο εκπρόσωπο του Φεστιβάλ Δημιουργικότητας των Καννών (International Festival of Creativity) στην Ελλάδα.