Ogilvy: The Return to Growth in Turbulent Times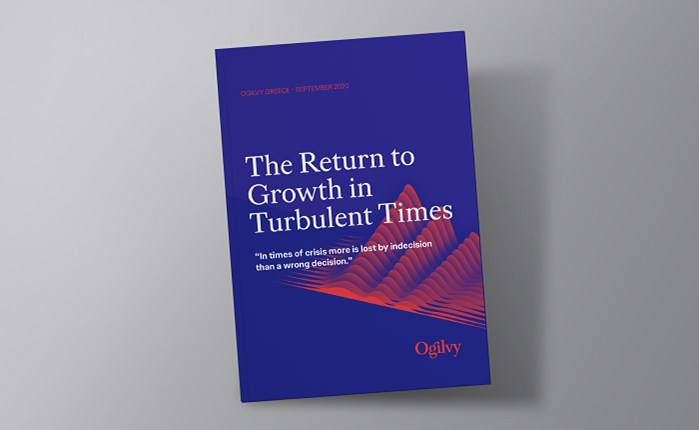 Σχεδόν 6 μήνες έχουν περάσει από την ημέρα που ο Παγκόσμιος Οργανισμός Υγείας χαρακτήρισε τον COVID-19 ως 'πανδημία'. Και πριν προλάβει να καταλαγιάσει η δραματική παγκόσμια κλιμάκωση των κρουσμάτων του πρώτου τριμήνου, ανησυχητικές ενδείξεις ενός δεύτερου κύματος άρχισαν να εμφανίζονται σε πολλές χώρες από τον Ιούνιο και μετά.
Στην ολότητά του το 2020 διαμορφώνει μια πραγματικότητα επάλληλων σημαντικών γεγονότων και κρίσεων (επιπτώσεις της πανδημίας στην παγκόσμια οικονομία, #BlackLivesMatter, η κρίση στο Αιγαίο, οι εκλογές στις ΗΠΑ το Νοέμβρη, το τέλος της μεταβατικής περιόδου του Brexit στο τέλος του χρόνου), όπου η διαρκής αλλαγή και η αβεβαιότητα θα συνεχίσουν να αποτελούν το κυρίαρχο πλαίσιο λειτουργίας για τις μάρκες και τις επιχειρήσεις.
Αναλύοντας στρατηγικά case studies απ' όλο τον κόσμο, η μελέτη της
Ogilvy
αναδεικνύει τις κατευθύνσεις, τις τάσεις και τις στρατηγικές που διαμορφώνουν τα καθοριστικά growth bets για τις μάρκες και τις επιχειρήσεις στο παρόν και το εγγύς μέλλον.
Διαβάστε το report
ΕΔΩ